Topic Options
Mark Topic as New

Mark Topic as Read

Bookmark

Subscribe

Email to a Friend
Community Member
Posts: 1
Have a buyer that says they have paid into my PayPal account but the item i'm selling is still live
Options
Mark as New

Bookmark

Subscribe

Email to a Friend
a week ago
My my item is still live on ebay and still counting down after a buyer has said they have paid buy now into my paypal account,i recieved an email from paypal to confirm the payment but payment is still pending,there is no such activity on my ebay listing confirming a buy it now ? is this a scam?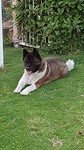 Community Member
Posts: 8,699
Options
Mark as New

Bookmark

Subscribe

Email to a Friend
a week ago
Log into your Paypal account and see if the payment is showing there, it may be an echeck - if so it will take a few days to clear.
If it's not in your paypal account then it's probably a scam, don't open any links in the email sent to you and if you have run your virus/malware scans asap.
I don't see any listings on this account so I presume it's on another account of yours.
______________________________________________________

"Start me up I'll never stop......"