Topic Options
Mark Topic as New

Mark Topic as Read

Bookmark

Subscribe

Email to a Friend
Community Member
Posts: 2
I need to contact a seller how do I get their phone number
Options
Mark as New

Bookmark

Subscribe

Email to a Friend
on ‎04-20-2017 02:24 PM
Hello,
I want to contact a seller by phone as they aren't on Ebay much.
Is this possible as I want them to relist something before they leave for interstate.
You used to be able to put in the item number and the sellers id and it would send an email to both the seller and the buyer with the information.
Is this still possible?
Thanks megan
View Entire Topic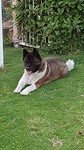 Community Member
Posts: 9,605
Answered
Options
Mark as New

Bookmark

Subscribe

Email to a Friend
on ‎04-20-2017 02:48 PM